A Wearable Planter by Colleen Jordan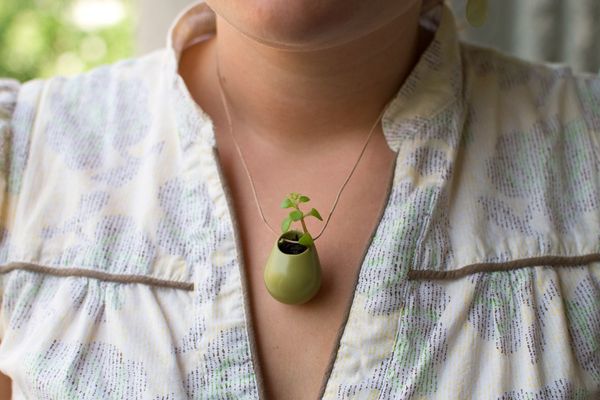 Why should your plants stay at home? They help clean the air you breathe, are beautiful, and create a wonderful conversation starter. Carry a sprout, a succulent, or a flower you found on your morning walk. Originally, the purpose of this planter was to prove that something beautiful worth passing down to your children could be made out of plastic.

I created the design for this using 3D modeling software. It is then 3D printed, and painted and finished by hand. Each one of these is individually painted upon order, and may take up to 3 weeks to ship.

Comes with directions on how to add plants and recommendations on which work best. Sorry, but no plants are included with this item.
About Collen Jordan:

Hi there, I'm Colleen, a designer and artist currently living in Atlanta, GA.

I've moved around a lot in my life, from Louisiana, to Hawaii, South Carolina, Georgia, New Jersey, Sweden, and finally back home to Atlanta. The work that I create is influenced by everything I've seen, and I strive to create things to make life a little more pleasant.