Beer Lovers Kitchen Towels - Set of 4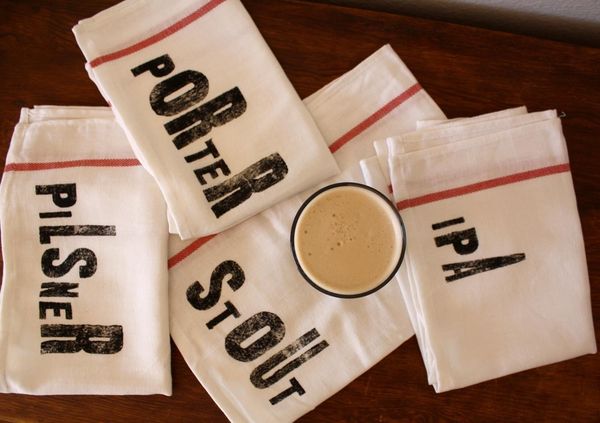 from NestaHome:

These towels are hand stamped with antique printing blocks using water based inks. The towels are prewashed 100% cotton, have a hook for hanging and are completely machine washable.
Set of four 18″ × 24″ stamped towels
They read

IPA

, Stout, Pilsner, and Porter
about NestaHome:

Hello! My name is Tandie (aka) Nesta! Just a little about me…

I grew up in Northern California and went to college at UC Irvine in Southern California where I earned a scholarship playing volleyball. As an Anteater (yep, our mascot), I majored in Sociology, minored in Film Studies and spent many a days as a beach bum. After graduating college I decided to spend a year living and working abroad in London, England where I met amazing people, traveled to faraway lands, and made the life decision that art and design would always be a part of my life…

So fast forward a few years later (ok, more like 10) and you'll find my shop 'Nesta'… Although I reside in Phoenix, Arizona you will notice that my heart is in many different places. From the beautiful beaches of Southern California to the gritty urban street corners of New York City, I hope to capture the beauty of a space and reflect on our place in that space.