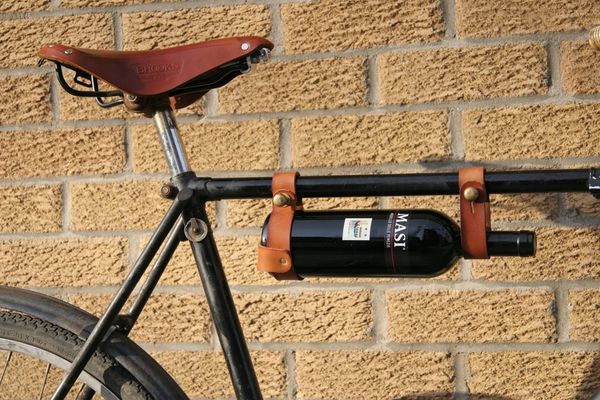 from Jesse Hebert:

If you like wine and you like biking, you're going to love this. The handmade leather bicycle wine rack is perfect for taking wine with you on the go. It easily attaches to any 1″ bike frame with antique brass fasteners, while the hidden metal clamps hold the bottle securely. The oil-treated vegetable-tanned leather will only look better as it ages.

ABSOLUTELY

KEEPS

THE

BOTTLE

IN

PLACE

. More secure than it looks thanks to hidden metal clamps. Tried and tested!
Adjustable to fit different types of 3″ bottles
Handmade in Montreal from recycled oil-treated vegetable-tanned leather that will age beautifully
Perfect addition to a fun car-free lifestyle!

It only fits a 1" bike frame!
about Jesse Hebert:

I started off making remote control boats, electric generators, telephone bugs and lots of music. Mecano was my friend.

I headed off to get a degree in Mechanical Engineering at the U of Waterloo because I thought I'd get to make lots of great things. After spending years trying to save the environment and working for everyone under the sun I finally realized that engineers don't get to make anything, they get others to do it for them. That's no fun.

I pulled a u-turn and returned to my passion for design, studying industrial design at the U of Carleton in Ottawa, and got back into make custom gear. I started working with leather and haven't been able to stop.

My last 10 years have been spent in Los Angeles, Ottawa and Montreal, designing custom gear for all kinds of folk. I've made over 10,000 handmade items – belts, bags, cases, wedding rings, holsters, gig bags, tool belts and on and on. My favorite projects always involve an old piece of leather and a new purpose. It's been great getting to make so many things.

Lately I've been focusing on integrating leather and electronics to make funky accessories. It's fun trying to make useless things useful!