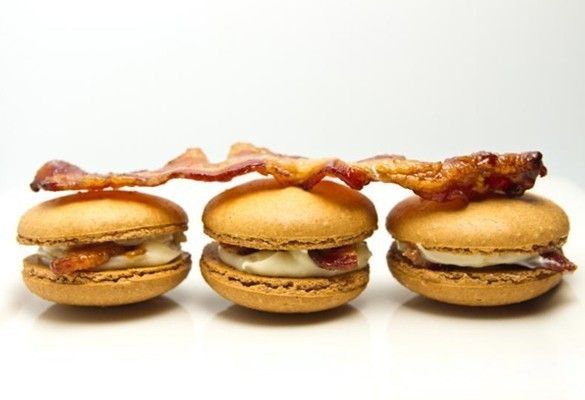 from Macaron Parlour:

These delicate French macarons are a delicious treat! Each box comes with 9 gluten free macarons.

Macarons are approximately 1.75-2" in diameter.

The following flavors are available:

Candied Bacon Maple Cream Cheese
Nutella Ganache
Caramel Fleur de Sel
Cinnamon Pistachio with Morello Cherries
Lemon Buttercream
Milk Chocolate and Passion Fruit Ganache
S'Mores
Match (Green Tea)
Peanut Butter Cup
Red Velvet
About Macaron Parlour:

Macaron Parlour was founded in 2010 by Christina Ha and Simon Tung. The dynamic duo independently fantasized about opening their own bakery and upon meeting, Macaron Parlour was born. Christina has a love for bite sized petit fours and studied macarons at La Haute Pâtisserie Pierre Hermé in Paris. Simon always had a soft spot for sweets and loves being in the kitchen.

Macaron Parlour, a NYC based patisserie, aims to expand macarons offerings beyond traditional fillings. While paying homage to buttercreams and ganaches, we also dabble with savory and frozen dessert fillings. We will be offering fun flavors like candied bacon with maple cream cheese frosting, peanut butter cup, and s'mores.

We are the first to offer macarons made with brown sugar – used on our s'mores and candied bacon macarons. We believe the brown sugar enhances the flavor and complements the filling.