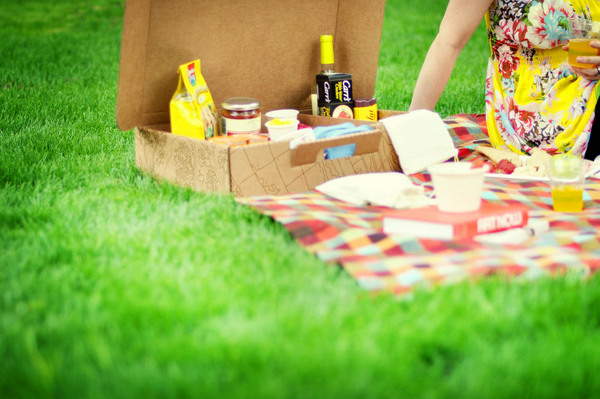 From Boxsal:

When was the last time that you sat down to enjoy a picnic? Yep, that's exactly what we thought. It's about time you unleash your creativity and pack it inside one of our super-cool, eco-friendly picnic boxes. Use them over and over and when you're done, recycle 'em or use 'em as storage.

Get out and have fun with friends and family. We've made the picnic socially acceptable again. And much more fashionable.

Each Boxsal is roomy enough to pack a bottle of wine, some hors 'd ouvres, some nibbles, some sandwiches and more. They also come with fully compostable utensils, plates, cups and napkins. Sorry, wicker, it was fun while it lasted, but the new picnic belongs to post-consumer pulp. So pack up and park on. It's time to escape the office for an afternoon, schedule that over-due date or just go have some fun.
Boxsal Picnic Boxes currently come in three designs: Urban Picnic (the one that looks like a boombox), Today's Date (for a romantic paint-by-numbers picnic), and Office Escape (for a workday rendezvous).
All Boxsal picnic boxes come with one Eatin' Tool Set that contains the following items:
4 Compostable trays
4 Compostable large bowls
4 Compostable small bowls
4 Compostable utensil sets
4 Compostable cold cups
8 Recycled napkins
1 Compostable trash bag
Boxsal is a product of Three Blind Ants of Dallas, TX, a team of designers, illustrators, and creatives who care about design and the environment, stumbled across this fun idea, and made it so.