Camping Circa 1960s Letterpress Prints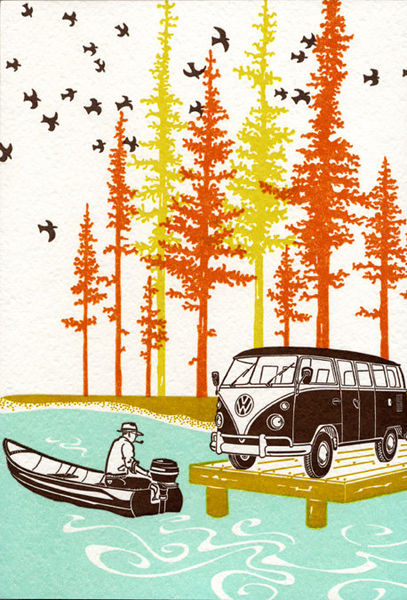 One of six images in Old School Stationers' Camping Circa 1960's collection this 6 1/2″ × 9 1/2" letterpress print is hand-drawn and color separated. It is then printed on my 1917 Chandler & Price model letterpress.
The full line is printed on thick letterpress paper from Milan Italy, where they have been pulping this style of sheet for over 350 years.
Each print comes block mounted and ready to hang.
About Old School stationers:

Old School Stationers is owned and operated by Brian and Amy Reed. We are a small letterpress studio specializing in the production of handmade cards, journals and wall prints.

True to our name, we prefer the organic beauty of hand-drawn lines to those created with a mouse and keyboard. Our cards and prints are made one at a time using pencil, paper, ink and 900 pounds of cast iron. Each image is hand-drawn and color-separated by Brian.

Flowers growing in our garden, textile patterns and childhood camping memories are just a few of the many inspirations reflected within each collection.