Concrete Felted Coasters by Culinarium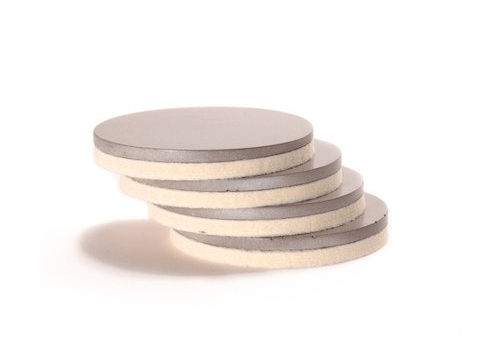 All Culinarium products are crafted with the utmost attention to detail utilizing the finest materials available. These beautifully crafted coasters are no exception. Extremely dense F1 felt complements our proprietary mix of concrete…The result are uniquely tactile objects that offer unparalleled visual and textural counterpoint.
Refined set of four coasters
4" in diameter and approximately .55" thick
Available in Gray or White
About Culinarium:

We believe that all of our coasters offer the benefit of being both absorbent and relatively stain resistant since the sealer that we use yields just the right porosity to our coasters. It is noteworthy to mention that the white color is the most stain resistant to the condensation/water stains that can occur with cold drinks. Please note that although they are sealed to resist staining, they will certainly develop character/patina over the years.

All of our items are one of a kind. I cast each unit in a hand made mold for about a week. I then hand burnish each, and then apply two coats of carnauba wax.

This item is not composed of typical concrete. It has taken me years to perfect this mix design. All of our concrete items are composed of an advanced cementitious mix which utilizes extremely small particulate, very little water, and reactive recycled pozzolans…The result is an incredibly strong, smooth, and tactile surface that is more similar in physical characteristics to ceramic or aluminum than it is to concrete!