Crazy Super Bike Party Pint Glasses - Set of 8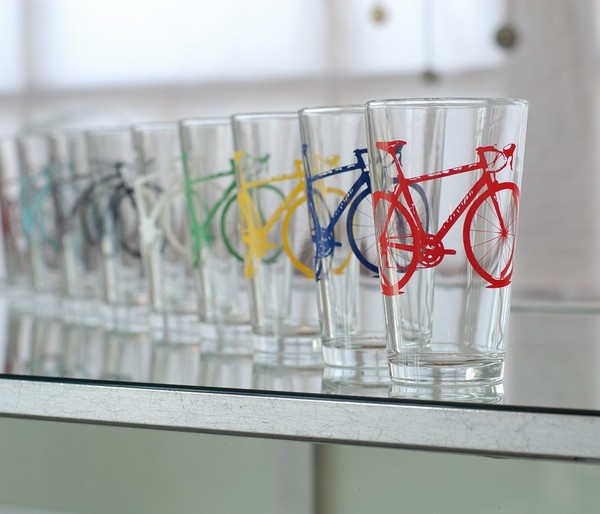 For the thirsty cyclist or the pint-a-day bike snob are these colorful hand-printed glasses from Brett and Crystal of Vital Industries in Denver, CO.
Brett screen prints the bikes directly onto these glasses using a glass ink that cross bonds with the surface, making them dishwasher safe and nice and durable.
Set of 8 glasses
16oz each
About Vital Industries:

Vital Industries is just one incarnation of our creative entrepreneurial spirits. We are Crystal and Brett. Above everything else we are makers. Vital Industries was founded in 2006 as a distillation of our joint creative energies. It has since grown to a full time endeavor for us both. Our amazing customers have made this possible. Vital is parntership and we couldn't imagine not working together. Having a creative partner is awesome; someone to bounce ideas off of and help out when work is overwhelming.

We are process driven, and thrive on learning new techniques and art forms. Screen-printing, fashion design, crocheting, quilting, candle making, embroidery, painting, dyeing, and photography have all shown up in our work. The learning process involved with new techniques is a huge draw. There are just so many get things out there and we want to learn how to make them all, or we just have short attention spans. Perhaps it is both. Craft is our community, and making is our life.