Easy As Pie Tea Towel Gift Set by Studiopatró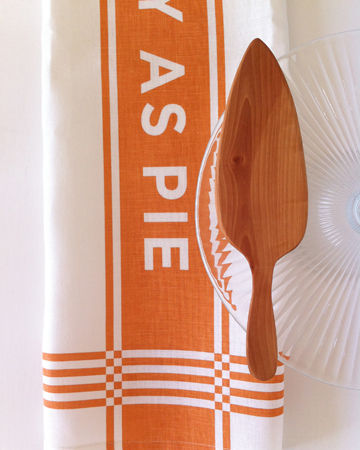 A very special gift idea!

We asked our favorite woodworker to make a wooden server, and we've paired it with our

EASY

AS

PIE

tea towel. Each server is unique and handcrafted with either cherry, ash or bradford pear wood.

This traditional tea towel design that will keep everything easy in the kitchen. The 100% linen fabric is absorbent, sturdy and becomes softer with each use.
USA

made
Copper ink on oyster. 18″ × 26″
Limited quantity available
About Studiopatró:

Studiopatró or "pattern studio", began on the walls of Christina Weber's studio in San Francisco. A growing collage of leaves, maps, typography, and architecture evolved into prints, patterns and tea towels. Chris is an art director and designer by trade and always wanted to explore design through textiles. Tea towels were a natural fit because they are inherently sustainable and lend themselves to endless interpretations. Studiopatro is now a collaboration of local screeners, sewers and friends, who share a passion to create high-quality, enduring products.

Our linen is naturally sustainable, luxurious and tested for its absorbency. All designs are handprinted, one-by-one, using only water-based inks and an ecologically sound citrus-soy cleanup.