Fried Chicken and Champagne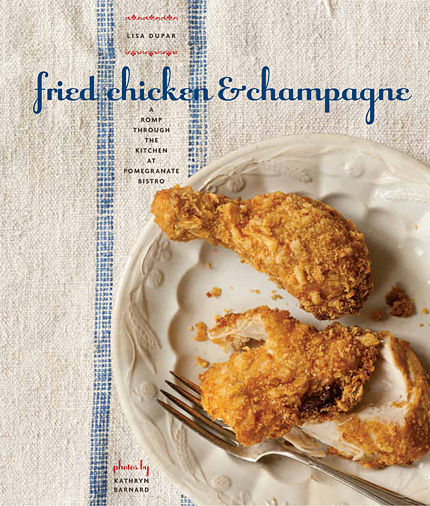 Lisa Dupar has a secret. Well actually, many secrets…which readers will love curling up with, giggling over and then taking to the kitchen when they read the award winning chef's new book, Fried Chicken & Champagne: A Romp Through the Kitchen at Pomegranate Bistro.
Born in Mexico, Southern bred and now a firmly transplanted Pacific Northwesterner, she knows how to spin a tale that is more like an ongoing conversation with a close friend. Dupar is as well known nationally for her unparalleled reputation as a caterer, as she is as a top restaurateur.
Her Pomegranate Bistro in Redmond, WA has introduced diners in the area to the down-home delights of shrimp and grits, pimento cheese and fried green tomatoes. With recipes for those, and many more like Savannah hot puffs, Ginger Molasses Sandwich Cookies, Rich Man's Gazpacho, and Northwest favorites like Cherry Pop Tarts, Dupar's cookbook is a sweet and savory delight!
from Lisa Dupar:

Fried Chicken & Champange represents my life in the kitchen. From sand-box cakes to clambakes, from farm-fresh eggs to freshly felled venison, my inspiration is a mix of the hometown and the haute. In the end, I'm simply a southern gal who can't resist a glass of champagne with a plate of fried chicken. I hope my recipes, whether from the high-end or the down-home, add to the inspirations you've gathered in your own life.