Girl Scout Stationery Set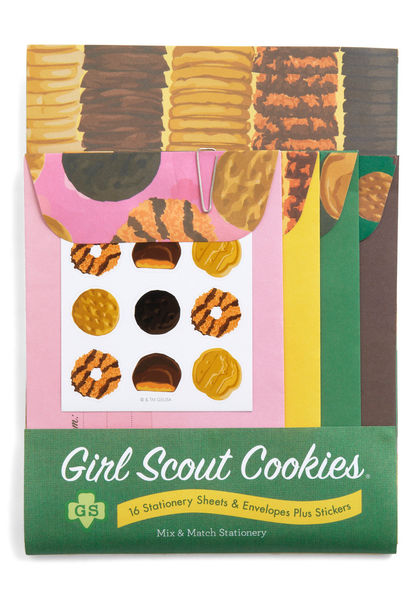 Send good cheer far and wide with this stationery celebrating Girl Scouting. Delicious Girl Scout Cookies festoon 16 winsome writing sheets, envelopes, and lots of sweet stickers.

Cook up some friendly conversation about your latest adventures with this mouthwatering stationery from Chronicle Books in your cabin or canvas knapsack.

Inspired by Girl Scout cookies – a phenomenon that began in 1917 with a single troop and captivates sweets-lovers from coast to coast each year – this set provides all of the essential ingredients for sixteen delightful surprises, including paper printed with dozens of dreamy morsels, darling envelopes in coordinating shades of strawberry, lemon, mint, and chocolate, as well as a batch of irresistibly cute stickers.

Whether you're sending news of the latest flavors, tales from the trail, or an apology for eating the last treat, one note from this mix-and-match collection is never enough!
Includes sixteen stationary sheets, envelopes, and stickers of four designs.