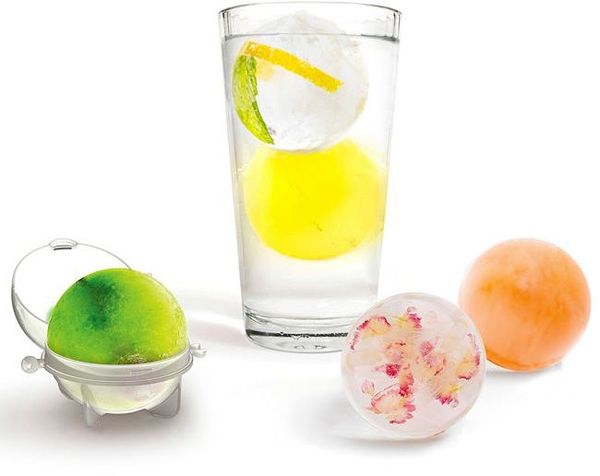 from Prepara:

A must-have for fun lovers of all ages! Iced, orbed greatness comes as a pack of four, making 2 inch round orbs of chill. Pack them with mint leaves, basil, fruits and more. Fill them with juice, lemon or lime segments. Can be used in pitchers, cocktails, punch bowls, and tumblers. Set them out for all to marvel!
Iced, orbed greatness comes as a pack of four, making 2 inch round orbs of chill
Won't spill during your trek from the sink to the freezer
Makes use of unused freezer space
Larger ice means drinks stay cooler longer – won't melt as fast!
Because they are sealed, ice won't smell like leftover food in your refrigerator
Can snap all 4 together
about Prepara:

One Thanksgiving, Julie (a product designer) and her mother, Inna (a fabulous cook) took turns crushing garlic cloves. The garlic perfumed the bread stuffing, was whipped into luxurious potatoes and flavored Inna's special vinaigrette. Working side by side in Inna's Ohio kitchen, mother and daughter shared treasured family recipes, and a cook's secret touch, as they can only be handed down from one generation to the next. But before long, both were tired of squeezing. "Why don't they make a better press?" Inna asked.

Inna asked at the right time. Her kitchen was filled with inventive thinkers: her engineer husband; two daughters with a keen love of style and cooking; one son-in-law (Julie's husband, Dean) an award-winning product designer; and the other son-in-law the holder of an MBA. Before long, the ideas were really cooking…but only one survived straight through to pie and coffee. Inna needed a smarter garlic crusher.

So the family went to work, sketching out its dream tool. With the design patents applied for, Julie and Dean tapped into their design company's resources and industry contact base-plus their own love of family entertaining-to build a whole range of products that everyday cooks could savor. Their team reanalyzed countless tools, most unchanged since the rubber-handled fad of the '90s-if ever.

Before long Prepara®, a stylish new kitchen product company, was born, offering the hip cook everything from an innovative cookbook holder to a modern ice cream scoop.Every new prototype undergoes rigorous breakfast table debate-both at home and in the office kitchen. If it makes it through to the evening meal, there's a good chance we'll try producing it. Our goal is yours-to cook well and love doing it. Our tools are sleek enough to use for company, while guests sip a glass of wine and watch you make grilled garlic crostini or a simple Sunday chicken. The products save so much time, you can have the kitchen cleaned up and the cappuccino made before your favorite TV show starts-all while enjoying the perks (both economical and healthwise) of dining at home.