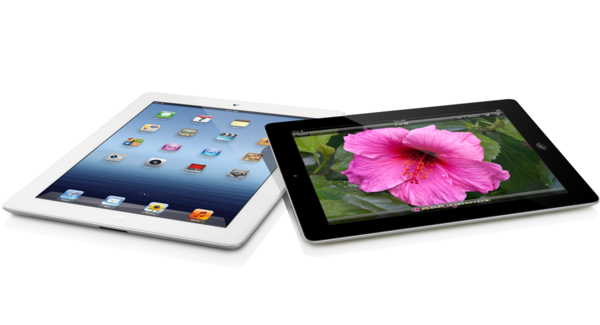 Pick up the new iPad and suddenly, it's clear. You're actually touching your photos, reading a book, playing the piano. Nothing comes between you and what you love. To make that hands-on experience even better, we made the fundamental elements of iPad better — the display, the camera, the wireless connection. All of which makes the new, third-generation iPad capable of so much more than you ever imagined.
Retina display. See everything like never before. Four times more pixels than iPad 2. Razor-sharp text. Richer colors. The Retina display transforms the entire iPad experience. So everything looks and feels incredibly lifelike and perfectly detailed.
Pixel-perfect performance. The A5X chip with quad-core graphics drives four times the pixels of iPad 2 yet it delivers the same smoothness and fluidity iPad is known for. Even with all that extra oomph, the new iPad still gets an amazing 10 hours of battery life.
The iSight camera. Your memories have never been clearer. The new iPad features Apple's 5-megapixel iSight camera. Designed with advanced optics, it lets you shoot gorgeous photos and 1080p HD video.
App Store. Something of everyone. And everything. Apps for iPad aren't like anything else. That's because every app — 200,000 and counting — is designed to work with iPad features like the beautiful 9.7-inch screen, Multi-Touch, the accelerometer, the gyroscope, and more.
iPad Smart Cover. Design for iPad. And vice versa. More than a way to protect iPad from dust and scratches, the iPad Smart Cover can wake and sleep iPad with a simple open and close. It even folds back and instantly turns into a handy little stand.
AirPlay. Play it on your iPad. Watch it on your HDTV. Whether it's the new album you bought, photos of your Barcelona escapade, or an HD movie, AirPlay lets you stream what's on your iPad straight to your speakers and HDTV.
Price shown is for 16GB model