Jeni's Splendid Ice Creams - Set of 9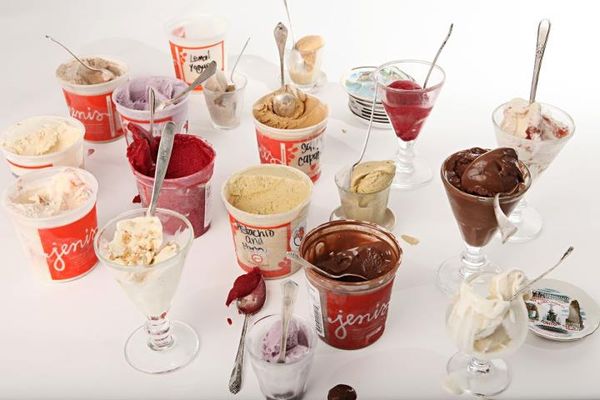 A nine-pack pack of Jeni's favorites is the perfect introduction to their menu as well as the go-to for your next get-together. Gather some friends and family and spoons and throw your own tasting party.
Price shown is for Jeni's Picks Collection of 9 pints
Several flavors sold by individual pints at Jeni's too
Flavors included in the Jeni's Picks Collection:
BLACK COFFEE: True, strong, undiluted coffee taste thanks to freshly roasted beans ground and steeped in grass-grazed cream. The flavor and aroma of coffee is encapsulated and translated perfectly.
BROWN BUTTER ALMOND BRITTLE: Based on the traditional Norwegian dessert krokan. Browned butter gives depth to salty, sweet almond brittle.
CHERRY LAMBIC SORBET: Tart, true cherry flavor. Sweet and sour, effervescent Lambic beer on the mid palate. Clean, refreshing, and exhilarating finish.
DARK CHOCOLATE: Mouth-filling, palate-gripping, intense chocolate flavor with a fudge-like texture. Pleasingly dry finish.
LEMON YOGURT: Pleasantly tart, aromatic, and creamy. Simple and straight-up delicious, it's Jeni's long-time favorite.
PISTACHIO & HONEY: Creamy, deceptively simple. Pure and true pistachio flavor (pureed nuts) and pure and true pistachio color (beige; we add no artificial green dye). Lightly sweetened by ambrosial Ohio honey. Nutty, naturally, with a savory finish.
SALTY CARAMEL: Initial notes of burnt sugar give way to mouth-watering saltiness. A perfect salty/sweet balance.
UGANDAN VANILLA BEAN: Fair-trade, 100-percent natural African beans. Rich, full, and heavy vanilla flavor with notes of jasmine, honey, tobacco, and leather. Vanilla ice cream like no other.
WILDBERRY LAVENDER: Fruity, with brambly berry flavors, citrus zest, exotic spices, and lavender essential oil.
About Jeni's Splendid Ice Creams:

Jeni's Splendid Ice Creams, based in Columbus, Ohio, is a small company making modern American ice creams, yogurts and sorbets. We use local ingredients and responsibly grown exotics.

Handcrafted with ingredients from the gardens, markets & farms of the Ohio countryside.

We create ice creams we fall madly in love with, that we want to bathe in, that make us see million-year-old stars. We devour it out of Mason jars, coffee mugs—whatever we can get our hands on. Handmade American ice cream = Bliss with a big B. Every single thing we put in our ice cream is legit. Generic chemist-built ice cream bases and powdered astronaut-friendly gelato mixes? No, ma'am. We build every recipe from the ground up with luscious, Snowville milk and cream from cows that eat grass. With that exquisite base, we explore pure flavor in whatever direction moves us at any moment, every day, all year.