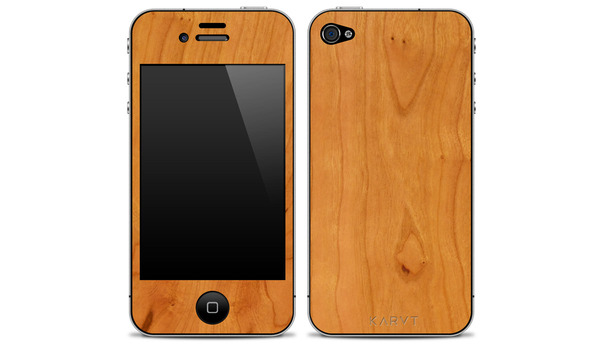 This KARVT wooden iPhone 4 skin in a beautiful cherry wood gives your favorite phone a new pop with a fresh and natural texture.
from KARVT:

Our skins are personally hand-crafted and offer our customers a simple and effective way to completely remodel their computer. Our skins are made of 100% real wood, which is both sustainable and eco-friendly. We use a professional grade 3M backing adhesive that sticks perfectly to your notebook that offers lasting results for a perfect skin.

KARVT is owned by mac enthusiast Kurt Barbee. Kurt is someone who has always been a huge fan of technology and has been inspired by the DIY attitude of the indie rock, punk and gig-poster subcultures. Kurts interest in computers and art finally merged a couple years ago when he started his own laser engraving company, which specialized in collaborating with artists from all over the world to extend their work in the new, exciting medium of "laser engraving".