Lattice Tea Towel by Avril Loreti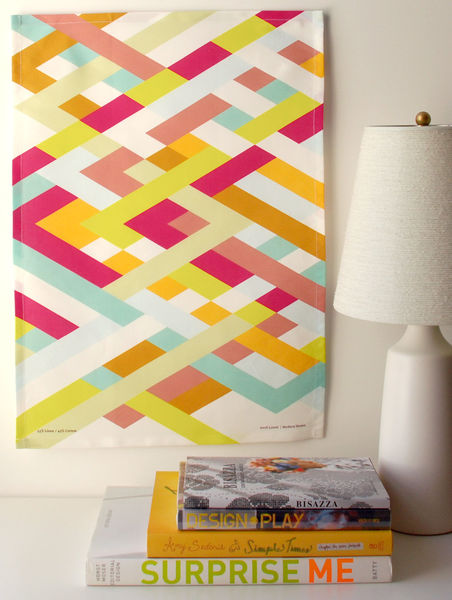 The Lattice Tea Towel was inspired by the lattice work that you find on the tops of fences. Well at least is started that way! Once I got going it was more a matter of making a pattern that would keep your eye dancing around the print.

This tea towel is great for adding a little art to your kitchen. Fling it over your cupboard door, hook it to your tea towel hook, or frame it and hang it on the wall as art!

Printed directly on the fabric. It washed extremely well and dries dishes in a heartbeat!
Linen/cotton blend
Loop at back
Machine wash
16″ × 22″
Made in Toronto, Canada
About Avril Loreti:

Avril Loreti | Modern Home is a collection of home decor and accessories for modern and artful living. Inspiration is drawn from antique market excursions, art and design history, icons and concepts cherished in our collective experience, playful patterns, and bright bold colours. Objects are designed to offer that extra detail of creative thought to your home.

Avril's aim is to live artfully always, to keep a mindful eye open to discovering design opportunities everywhere she travels, and to share a collection of creative designs that inspire modern artful living in others.