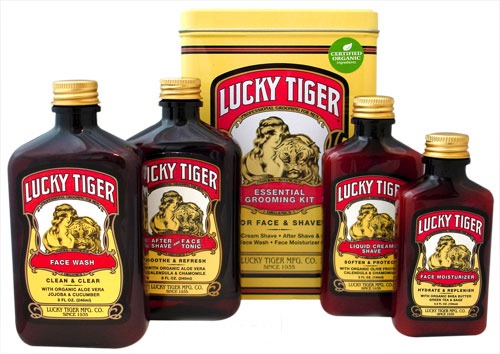 from Lucky Tiger:

By the time the early 1950's rock n' rolled around, Lucky Tiger Tonic was the most popular barbershop brand across America. Lucky Tiger provided confidence to American men, young and old. As hairstyles changed and the "rebel" look began to reflect the times, Lucky Tiger was there to give guys that sultry, just right flip as dictated by the heroes of the day: Dean Martin, James Dean, Brando and Elvis.

As times change, hairstyles and grooming needs do, too. In celebration of Lucky Tiger's 75th anniversary in 2010, we introduced our "Lucky Tiger Premium" men's line of shaving, facial skin care and body care products. Each product in this new, reformulated and expanded line is made with the highest quality, Certified Organic ingredients to promote a natural, healthy look for today's discerning man. The Lucky Tiger Premium line, with its retro look, natural organic ingredients and antioxidants, offers every man the products he needs to look his best at a moment's notice.
This Lucky Tiger Grooming Kit includes all four shaving solutions in full size of the classic barbershop brand and comes in a vintage-styled Lucky Tiger tin.
Kit includes:
Face Wash
Face Moisturizer
Liquid Shaving Cream
After Shave
Packaged in a vintage metal tin