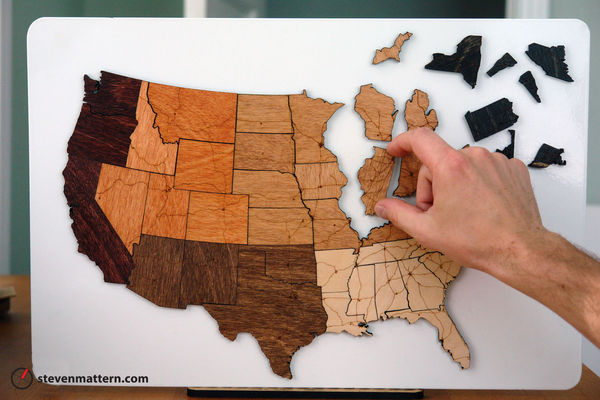 Make learning geography engaging and beautiful for all ages with this one-of-a-kind magnetic map puzzle. Laser cut then hand built, their creation draws upon the power of digital fabrication and the timelessness of hand craftmanship.
These map puzzles are as irresistible to play with as they are informative and beautiful. People young and old can't help but assemble them, finding new relationships between land masses and a better understanding how our world fits together.
Inset flush into each pieces' back is a small but powerful neodymium magnet. This allows the puzzle to live in a vertical world and transforms it from a table-bound educational game into a piece of wall art. You can build a portion of the puzzle and leave it for later or challenge someone else to complete what you've begun.
Etched onto the backs are the states' two letter abbreviations. The orientation of the text indicates which direction is north (i.e., when the text is oriented ledgibly, north is up).
Etched onto the pieces' fronts are the state capitals and your choice of the major rivers, lakes and reservoirs or the interstate highway system.
15" wide by 10" tall by 3/16" thick
Scale: 1:12,000,000
3/16" Birch plywood with a shellac & beeswax finish
46 Piece

USA

Rivers & Lakes Magnetic Map Puzzle
Simple Reference Map
Simple Cotton Drawstring Bag
Created by Steven Mattern of Austin, TX