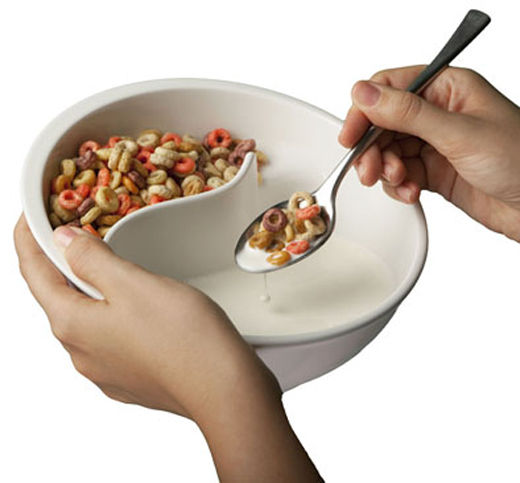 Hate soggy cereal? Problem solved! Obol has two sections—an upper area for your cereal, and a lower reservoir for milk. Scoop a spoonful of your cereal into your spoon, then swoop into the milk for the perfect bite every time. Obol is also great for milk and cookies, soup and crackers, even chips and salsa. Its uses are as unlimited as your imagination!

Obol's unique Swoop n Scoop design lets you enjoy cereal or anything crispy until the last bite. And with its easy-to-hold, textured non-slip grip and rim, you can eat wherever you like—in bed or while watching a movie. Kids love Obol! And moms will, too. It's made in the

USA

from

BPA

-free, unbreakable polypropylene—and it's dishwasher-safe.
About Obol:

I eat cereal, a lot of cereal. I eat it while working at the computer, while watching television or even in bed. Most of the time, the cereal would get soggy so fast that I had to pour it out, wasting money. One day eating breakfast I was interrupted by an urgent email. When I returned to my cereal after a few minutes, it was a soggy mess. That's when I had my "aha" moment…what if?

Most cereal bowls are not designed to be held. They are slippery, awkward and not designed for the hand. There is no grip area. There is a reason for this…the perfect bowl is not easy to design or manufacture. Size, volume and molding constraints are very challenging. The Obol is the result of two years of design work and CAD engineering to produce a perfect bowl that finally ends soggy cereal. It is the perfect size, easy to hold, easy to clean and will not break. It is so easy, all you do is Swoop n Scoop.

The Obol is designed and manufactured in the United States, where rent and labor are more expensive. I believe it is important to help keep jobs here where we live with our family and friends.

I believe you will find the Obol one of the most practical products in your kitchen. It will bring you wonderful crispy bites for years. Never eat soggy cereal again!