Paint Chip Placemats - Set of 4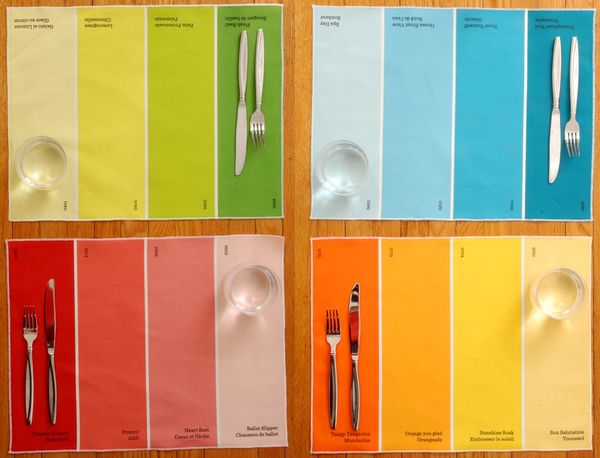 from Avril Loreti:

Everyone has a little designer in them! And what better way to express your love for picking colour palettes than by entertaining your guests with these colourful placemats.

I've always thought that one of the best jobs out there must be to name the colours on paint chips. They're always so delicious sounding and inspire heart warming feelings. So I decided to design my own opportunity to come up with some yummy names for my own colour palettes!
Paint names are in English and French
The set includes 1 of each colour placemat : Teal, Green, Orange, Red
Custom placemats can be done
Sets of all one hue also available
55% linen / 45% cotton
About Avril Loreti:

I like creating objects that add that extra little bit of design sensibility and creative thought to a living space or an outfit.

I'm really drawn to the things and ideas that make up everyday life. From long lasting items that we see in pop culture to very temporary items (or spills!) that are made today and gone tomorrow.

I'm based in Toronto, Canada, and this city has definitely made it's mark on my creative process. I graduated from the University of Toronto and Sheridan College in Art and Art History with a focused on photography and conceptual art. Since then I've worked in a photography gallery, designed at a modern lifestyle boutique, and worked in arts administration. In the past year I took the plunge and now I'm running my business full time…. and it's worth every late night, and every mini panic attack, and every rise and every fall. It keeps me Young!