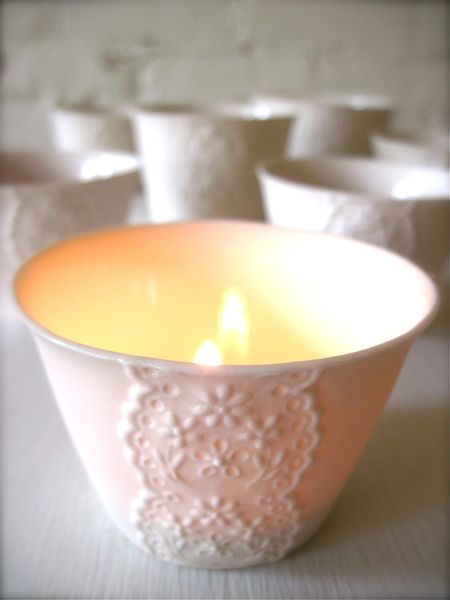 Hidemi's porcelain lace cups provide a soft touch of femininity without going overboard.
Available in two thicknesses. The paper thin translucent version makes a lovely vase for a small floating blossom or a delicate candle holder with a warm glow. And the thicker, dishwasher safe, version is perfect for desserts and other treats.
Glazed on the inside
Food safe and microwave safe
About Hidemi:

Hidemi was born and raised in Tokyo, Japan where she earned her degree as a fashion designer. She was an entertainer, singer, and model in Japan.

Her move to New York City expanded her creative interests in to a new field, pottery.

Hidemi sees beauty and joy in just about everything and wants to express it through her ceramics. As she creates from within, she hopes that people will react to her work as if it were a beautiful flower.

She would like her ceramics to bring to others: love & peace, happiness, laughter, health, dreams, sympathy, compassion and a relaxed life.