Put The Love In The Coconut Beach Towel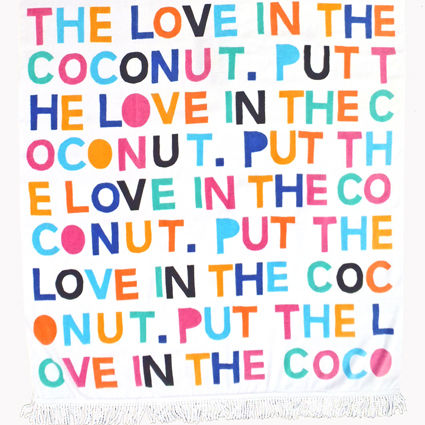 Limited edition 100% cotton beachtowel with top and bottom edge double fringe.
Designed exclusively by

GORMAN

and

CASTLE

Price reflects conversion from Australian to US Dollar
Ships from Australia and takes 3-10 business days to arrive in the US
About CASTLE:

CASTLE

was founded in 2008 by Rachel Castle with a small range of bedlinen made for friends and family. Considerable interest ensured

CASTLE

quickly became a commercial venture. The brand represents a love of beautiful, often handcrafted or handprinted, pieces for the home.

Rachel Castle has spent the past 20 years working in the homewear industry both in Australia and abroad. Prior to CASTLE, Rachel was joint founder of London-based branding and design agency, The Nest, and before that, worked for The Conran Shop in the UK. She regularly styles and writes for Australian lifestyle magazines, and currently lives in Sydney.

All handmade artworks are sewn by Rachel Castle and her very patient and loving mother, Jillian Patching.