Reclaimed Fire Hose Wash Bag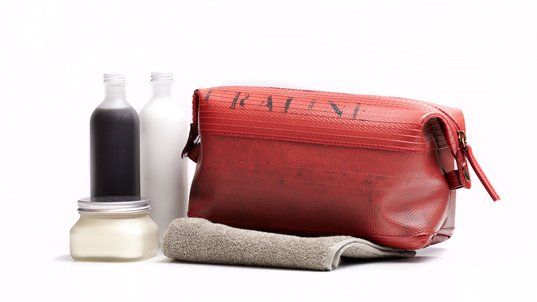 from Elvis & Kresse:

We love a good waste not, want not story and few are as fascinating as that of Elvis & Kresse, a British duo who upcycle reclaimed fire hoses into chic, one-of-a-kind accessories like these washbags.

After collecting used hoses, some of which have put in 20 years of service, from fire brigades around the U.K., Elvis & Kresse use nothing but water and elbow grease to scrub them clean of soot and grime, then have their crack team of leather workers, who also make products for high-end luxury houses, cut and stitch them into the finished products. The fire hose is a stunning material with an incredible history and is far too durable to end up in landfill.

The result is stylish and well made accessories with a cool, distressed appeal (think Steve McQueen's well worn leather jacket) that are also extremely practical and durable. This quality is especially apparent with the washbags, which are pretty much indestructible. They will never leak or get mucked up from exploding toothpaste or shampoo bottles, and at 9.5 × 5.5 × 5.5 inches/ 24 × 14 × 14 cm, they are ideal travel companions. Each bag has lettering and numbers which designate the origin of the firehouse it was made from. Lined in reclaimed military-grade parachute silk, they're an enduring testament to the beauty of utilitarian materials.

"Fire hose has a history—it protects both the firefighters and us—so it's our turn to value the hose and care for it, showing respect for both the material and fire service personnel," says Kresse Wesling, the company's co-founder. "The story embedded in the hose is too good to waste."
Washbag with zipper closure and one interior pocket, lined in military-grade parachute silk; 5.5 × 5.5 × 9.5 inches/14 × 14 × 24 cm.
Made from reclaimed British fire hoses. 50 percent of profits are donated the Fire Fighters Charity.
about Elvis & Kresse:

Elvis & Kresse, a British accessories and home design firm that was launched in 2007, uses only reclaimed materials—mainly old fire hoses—to create its products. "We source our materials across Europe and are also looking at starting collections in North America, says company co-founder Kresse Wesling. "We've reclaimed over 165 tons of waste, representing 10 different types of materials."