Rustic Tea Towel by Studiopatró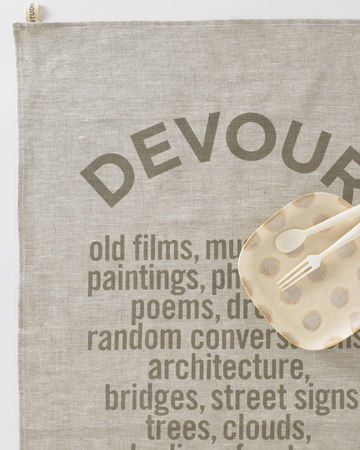 Words of wisdom for the creative cook, on 100% oatmeal linen with lots of nubby texture. Thick and strong, softens with use.



TODAY

Start each day with positivity as you smell the coffee and start the school lunches.



BAKE

All the moves of a dedicated baker who loves to share… literally.



COOK

Cooking can get emotional. Think of all the double meanings in those recipes.



DEVOUR

Many thanks to Jim Jarmusch for this resonating thought that spoke directly to my soul.



EQUAL

How many cups in a pint? Now you'll know. A great tool for everyone who practices equality.



PANTRY

A handy list to stock your pantry. With these essentials you'll always eat well.
Six designs to choose from
Each sold separately
Colors: copper and slate inks on oatmeal
18″ × 26″
About Studiopatró:

Studiopatró or "pattern studio", began on the walls of Christina Weber's studio in San Francisco. A growing collage of leaves, maps, typography, and architecture evolved into prints, patterns and tea towels. Chris is an art director and designer by trade and always wanted to explore design through textiles. Tea towels were a natural fit because they are inherently sustainable and lend themselves to endless interpretations. Studiopatro is now a collaboration of local screeners, sewers and friends, who share a passion to create high-quality, enduring products.

Our linen is naturally sustainable, luxurious and tested for its absorbency. All designs are handprinted, one-by-one, using only water-based inks and an ecologically sound citrus-soy cleanup.