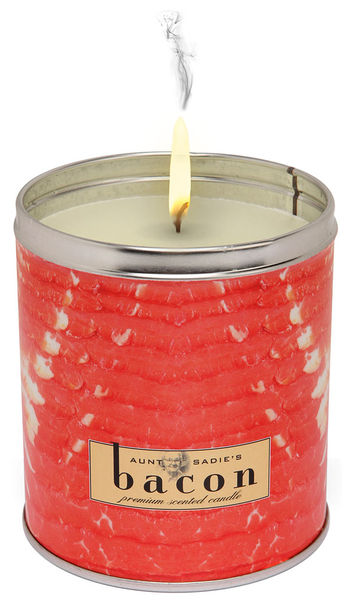 from Aunt Sadie:

You may have seen bacon-scented candles before, but these are a horse of a different color, so to speak. Most candles are made from cheap chinese wax, and filled with a chemical cocktail of synthetic furanones and polycyclic aromatic hydrocarbons. Nasty. These premium scented candles are long-lasting and made from actual rendered bacon fat using a top-secret process that preserves bacon's natural aromas and essential oils.

Burning one of these not only fills your room with gentle light, but also that most awesomely wonderful bacon smell. Nothing else even comes remotely close to the actual smell of cooked bacon except the real thing.
Bacon-scented candles made with actual rendered bacon
4 inches high, 3 inches in diameter
Approximately 70 hours of long burn time
100% hand poured, hand packaged and lead-free
Comes in an attractive and safe tin
about Aunt Sadie:

Sadie Denton was a mother, grandmother, and great-grandmother. And yes, an aunt. She was an avid baker, using only the finest ingredients to create her reknowned desserts. We founded Aunt Sadie's in 1996 to honor her life and we've applied her high standards to create the candles that bear her namesake. We believe her spirit lives on in each candle that we hand pour in Boston. And we sure do hope she's smiling.