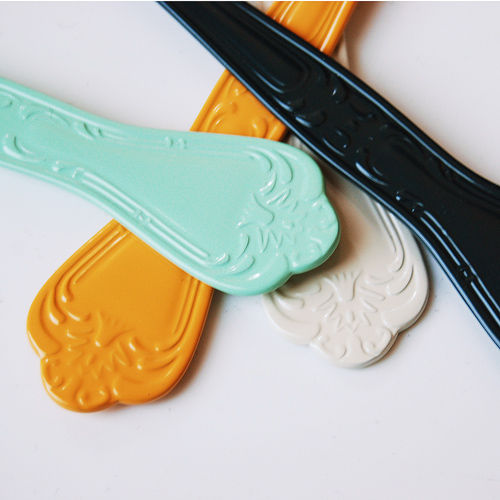 The Superior Server is a series of stainless steel utensils with color polymer coated handles inspired by the dipped ends of hand tools. These oversized servers are approximately 11" long overall and are perfectly suited for serving large baked dishes, salads, roasts, and more.
Colors Available: Mint, Peach, Antique White, Charcoal, Aqua, Orange, Mustard
Individually: Solid Spoons, Slotted Spoons, Carving Forks
Also available as a set of 4
About Ladies and Gentleman:

Driven by a love for all things vintage, clever, and/or designed, Ladies & Gentlemen was founded by Jean Lee (the Lady) & Dylan Davis(the Gentleman) in 2009. With a mix of resourcefulness and nostalgia, the studio builds objects considering yesterday's values reinterpreted for current times.