Tegu Tints Magnetic Blocks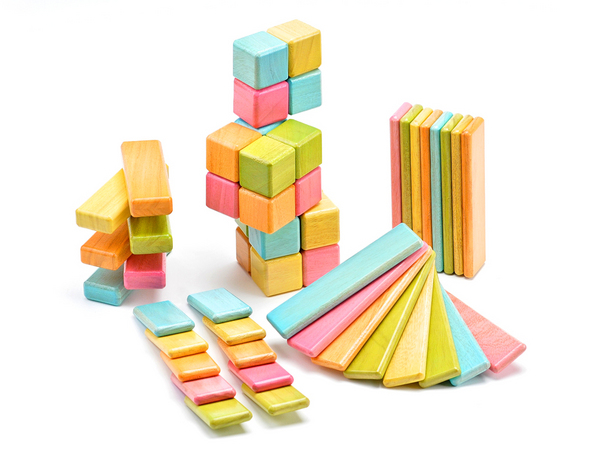 Tegu's imaginative candy-colored blocks are a wonderful gift for your favorite creative kiddo, but watch out their parents may steal them for themselves!
From Tegu:

Say goodbye to sleepy wooden blocks. Driven by a passion for unleashing creativity in kids, we're refreshing a timeless classic and seeking to transform a nation in the process.

Our magnetic wooden blocks inspire open-ended play at its best. With the intriguing combination of wood and magnets there are no limits to what you can create. Made with beautiful Honduran hardwoods and safe water-based finishes, these blocks have proven wildly addictive for kids (and kids at heart) and will encourage the simple joy of creating for generations.
Set of 52 blocks in a rainbow of colors
Set of 26 and natural colored blocks also available
See the blocks in action and participate in one of Tegu's live-streaming building sessions
About Tegu:

Brothers Chris and Will Haughey didn't start Tegu with toys on their mind. In fact, the company began with the simple notion that Honduras needed businesses which offered living wage jobs. Home to beautiful hardwoods, the country could have been the perfect spot for sustainably manufacturing any number of wooden products. However, the brothers were inspired by classic wooden toys on a trip to Europe and embarked on a quest to breathe new life into a old industry. Today, Tegu blocks inspire children while addressing unemployment, neglected natural and human resources and the need for entrepreneurship in Honduras.

Tegu has been purpose-built to harness for-profit business for the benefit of the people of Honduras. We create jobs, plant trees and send Honduran kids to school.