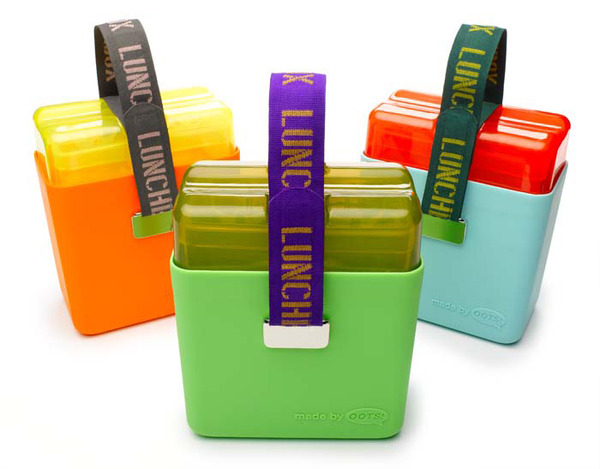 Cool, contemporary lunch boxes that come with their own containers. Cleaning is easy and the use of space is optimal with custom containers that comfortably fit inside. The lid of the Lunchbox is shaped to keep a water bottle in place, under an elastic strap. The 'stacked' design and materials used give these lunch boxes a surprising look. The upright design prevents food from being tossed around.
Both kids and adults use the eco-friendly Lunchbox. Re-using the containers eliminates the use of disposable plastic bags, and promotes healthy home made lunches. The containers provide users a way to eat a variation of wholesome foods, to use leftovers, or to exercise portion control.
All materials used are food safe and kid-friendly: made of BPA-free and phthalate-free polypropylene plastic, and safety tested for lead. The Lunchbox and containers are dishwasher safe (top rack) and the containers can be used in a microwave.
three different color combinations: Blue, Green and Orange.
Deluxe version (priced below) has one large and four small containers inside. Extra containers can be purchased separately.
8.5 × 7.25 × 4.25 inches.