The Stand Fruit and Vegetable Display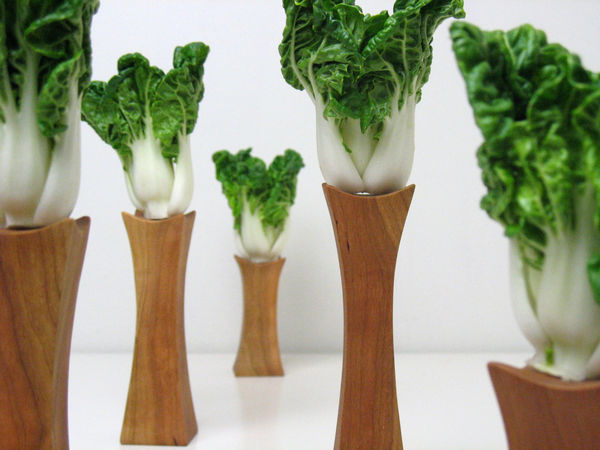 For produce that does better on the shelf than in the fridge, these pedestals by A Mischievous Marriage turn fruit and veggies into art.
Available in an assortment of woods and sets of 5 or 8—the set and price shown here is for a set of 8 made of solid walnut.
From A Mischievous Marriage:

When you are ready, just pluck and eat from your very own sculpture garden where fruits and vegetables perch on graceful, hand shaped pedestals. Interesting and beautiful to look at even when everything has been harvested! Endless possibilities.

8 pedestals ranging from 3 1/2" to 9 1/2"
Shaped on top to help cradle produce
Finished with food safe bees wax salad bowl finish
Produce is not included : )

In an effort to avoid wasting any fine wood, these pedestals are made of material left from our larger projects. Each set is unique in height and varying thicknesses.
A Mischievous Marriage is the work of Victoria and Andy of Toronto, Canada.
About A Mischievous Marriage:

Playful exploration and serious collaboration- a mischievous marriage of materials, creativity, design and craftsmanship.

A Mischievous Marriage became a dream many years ago on a bicycling trip; to work together, to create whatever we are inspired to create and to acquire the skills to make those ideas come to fruition. To live a creative life.