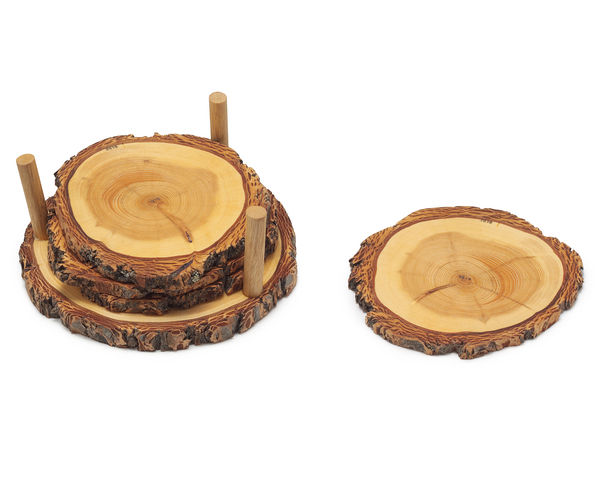 The history of human civilization can be cross-referenced with any sizable tree. If we could count our own rings, however, the tallies would pale in comparison. Tree Ring Coasters give us just another opportunity to appreciate the world around us, and realize that even a tree just four inches thick may have witnessed the birth of our grandparents.

Each set comes with four individually marked coasters to show their age, spanning anywhere from the early/mid 1900s to present day. Handmade in Missoula, Montana by Dave Wager from sustainable wood harvested from small diameter trees.

Small diameter trees are overly abundant because naturally occurring forest fires that typically remove small trees have been suppressed for the last 100 years. Thinning out younger small diameter trees from old growth forests helps protect larger and older trees that have stood for centuries.
Stands approx. 2.5"H x 3-4" dia.
Keep out of extreme heat and cold
Clean with damp cloth and wipe dry after use
Finish can be renewed by rubbing one or more coats of boiled linseed oil on the coasters