Trio of Mid Century Modern Birdhouses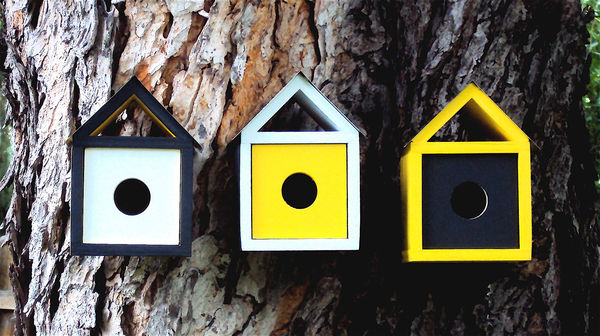 Constructed of birch, these graphite, yellow, and white birdhouses are a striking color combination no bird could resist.

Although not a literal adaptation of the color of wild goldfinches, I hope these pay a proper tribute to these beautiful birds. The galvanized steel roofs add an nice element as well as give ample rain protection.
Dimensions are: 5" wide, 5" deep, 8" high to peak
Made by Nathan Danials in Golden Valley, MN
About Nathan Danials:

My goal is to create modern shelters for our fine, feathered friends. My professional background is in retail furnishings, but creating my own products is my passion. We are a family ran business with one full-time employee, and a 6 year old consultant who works pro bono for now…