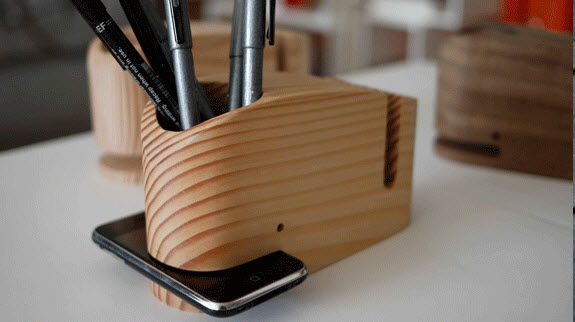 from The Utility Collective:

The Wood Whale holds all of your desktop belongings so they don't stray. Pens in the spout, phone in the mouth, letters in the tail. Service with a smile…

Each Wood Whale is hand-crafted in Michigan using reclaimed timbers. Our current batch is made using white pine from an old railroad depot in Grand Rapids Michigan. The Redwood version uses wood from old pickling vats.

Each Wood Whale is crafted with care, hand-oiled, signed, numbered and packed carefully for migration. Please note no two whales are alike.
about The Utility Collective:

Designer Eric Pfeiffer and Steve Piccus established The Utility Collective with a simple idea: to bring intelligent, well-made products to market and share how they are designed and made. Most importantly, let's do it in the U.S. with sustainable materials at fair prices.

We treasure the everyday items we use most often — a chair, a table, a pencil cup– we love to know how they're made, and where they come from. We have relationships with these products and they live with us in our homes. We should know their story.

The Utility Collective offers a window into the making of each one of our products. We'll photograph, video, blog, and share as much of the process as we can – from seed to showroom. We believe this knowledge creates a deeper understanding and appreciation for a product.

Much like devotees of local farmer's markets who want to know where their carrots and broccoli are grown, we think it's time the public knows the story about a few of the non-edible objects in their daily lives.