Work Hard by Anthony Burrill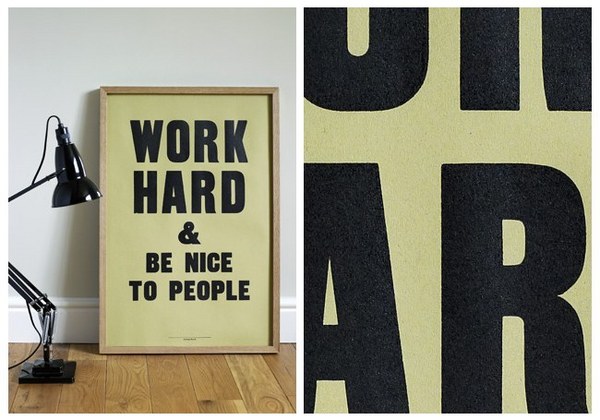 Work Hard & Be Nice To People…
Is that too much to ask? These words to live by from Anthony Burrill are beautifully printed using traditional woodblock printing techniques.
Open edition, signed in pencil
20″ × 30″
Printed by Adams of Rye of East Sussex, UK
100% recycled paper
About Anthony Burrill:

Anthony Burrill's persuasive, up-beat illustration and design has been commissioned by cultural, social and commercial clients around the world from New York, to London to Tokyo. He has also gained a following in the design world for his innovative collaborations with friends and fellow artists, designers, print-makers and film-makers.

Burrill works across a range of media, including posters, moving image and three-dimensional work. He combines an instinctive handling of colour and composition with a witty approach to words. He regularly collaborates with musicians and animators to make films, music promos and animations, using his distinctive visual vocabulary and passion for fusing sound and image.

Printmaking is an important part of Burrill's practice and he creates limited edition prints with slogans including "Work Hard and Be Nice to People" that have become mantras for the design community and beyond.

Burrill now lives and works on the Isle of Oxney, Kent.