You Wash, I'll Dry Tea Towel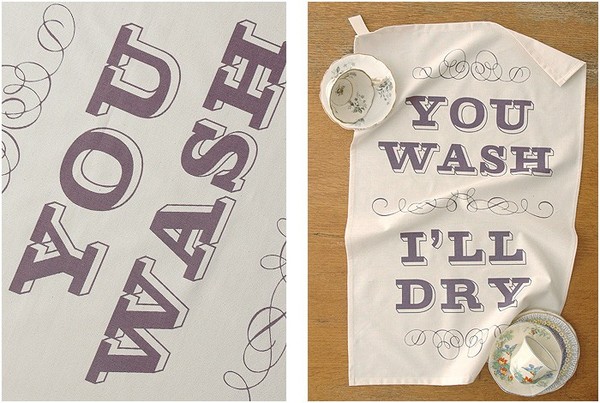 'You Wash, I'll Dry', perfect for any couple and a nice reminder to do your fair share of the chores.
This design has been screen printed in purple ink onto a lovely soft organic cotton tea towel.
Soft white organic cotton tea towel
Screen printed in purple
With hanging loop
760mm by 480mm (30 by 19 inches)
This item ships from the UK via Royal Mail Airmail
Designed by Haley & Lucas of Keep Calm Gallery
About Haley & Lucas:

Lucas & Hayley are Keep Calm Gallery's founding duo. The couple enjoy collaborating on just about all of their designs though not without an argument here and there! Their designs are inspired by old bits and pieces, their love of old sayings and phrases and simple design, all with a modern twist!

In their short career as KCG directors and designers the couple have exhibited their prints in the prestigious Urban Retreat in Harrods, London, as well as having exhibitions across the UK and most recently at Paul Smith's Space Gallery in Japan.