Zippered Pencil Pouch by Tinymeat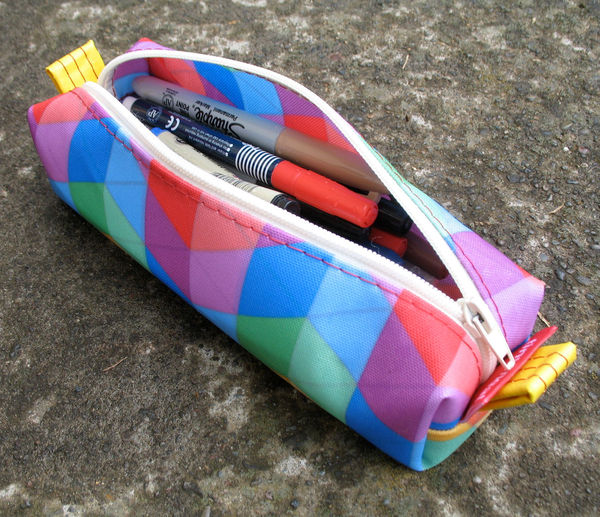 This sturdy zippered pencil case measures 2"h x2"w x 8" long and is constructed of dye sublimated 600d poly duck. This surface design technique locks the image into the molecules of the fabric under intense heat and pressure and is brilliant and permanent.
It features the same print of both sides of the fabric creating a stained glass effect when held up to the light. It is impregnated with a flexible polymer treatment that Tinymeat calls "mortar cloth" which increases it's water resistance, adds durability and helps the case hold it's shape while remaining pliable, much like waxed canvas.
It zips with a beefy #10 nylon zipper and is sewn with v92 weight industrial thread. Twin side tabs in contrasting cordura and red sewn in tinymeat label complete the look that guaranteed to get you noticed at your next drawing club or crafty meetup.
Tinymeat's pencil cases easily accommodate 30 pens, pencil or Sharpies and built to last many trips to the coffee shop and being tossed in your backpack
Makes a unique gift that you wont find anywhere else
Printed, treated and sewn by Michael Wood in my Portland studio and shipped to you in a sturdy cardboard box